Transports GIACOMIN located in Mont de Marsan (40), was the first of our subsidiaries to put gas-powered trucks on the road nearly 5 years ago.
The technology of our rolling stock is making huge progress and Groupe Hautier did not wait in order to take part in this immense challenge that is energy transition.
This type of equipment has undeniable advantages and complements a range of diesel vehicles which will see other energies arriving in our fleets tomorrow.

Transports Giacomin are now expanding their fleet and they are followed by Hautier Région Nord in Lumbres (62) and Hautier Région Ouest in La Rochelle (17) to bring the LNG / CNG fleet of Groupe Hautier to nearly 10 vehicles in circulation to this day.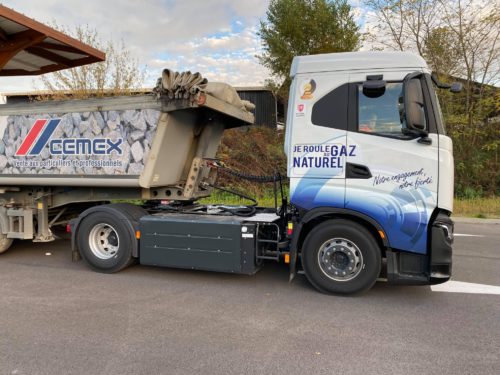 Temperature controlled, tautliner, skips, powder tanks, hydrocarbon tanks, we are now able to offer you this kind of equipment for all of our activities.
You have the choice between LNG for medium and long distance activities or CNG for regional activities of shorter distance.
You are interested ? Please click on "Contact us" to learn more about this and to consider with us the possibility of associating yourself with this greener approach.